Commentary
July 8th, 2009
No Comments »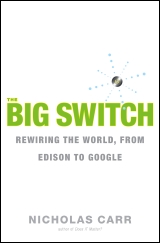 You can learn a lot — and be scared to death — by reading book reviews.
I was in my home office flipping through Newsweek's 50 Books to Read Right Now looking for books to take on the road trip.
I came across No. 4 on the list: The Big Switch: Rewiring The World, From Edison to Google, by Nicholas Carr. This bestseller is touted as "the best read so far about the significance of the shift to cloud computing" by Financial Times.
Fair enough. Then The New Humanist chimed in: "Carr may take a somewhat apocalyptic view of the vast technological and social issues which a move to utility computing will raise, not least those of privacy, ownership and access, but he makes a compelling case for its desirability in a world where the network is pervasive. Whether we go gently into this world is, of course, up to us, but with the insight offered here we will at least be prepared to understand the consequences of our choices earlier in the process rather than later. "
Truth be told, we all live in the cloud. Teleworkers who log on from home. Road warriors who access the corporate server via a customer's conference room. Home officers who open the HP at some Starbucks to check Gmail or Google Docs. Moms on AOL. Dads checking their fantasy league stats. Bloggers blogging, tweeps tweeting, friends Facebooking.
We all live in the cloud.