About Home Office Highway
Home Office Highway was created to show how a family — any family — can work from the road. Because unless you're blue collar, it's likely that at least some of your work can be done from someplace other than your daily workstation.
And if you're a parent or head of household, you likely can manage your affairs from any Internet enabled computer — assuming you've set everything up correctly. Online banking and billpay, mail forwarding, even monitoring the household via remotely accessed Webcams can turn the mobile office into a satellite office — while you still enjoy your time away.
If the convergence of work and life are to be a test of compatability, Home Office Highway will show how to pass that test…
Learn more about how the media was profiled in leading national consumer, business and trade media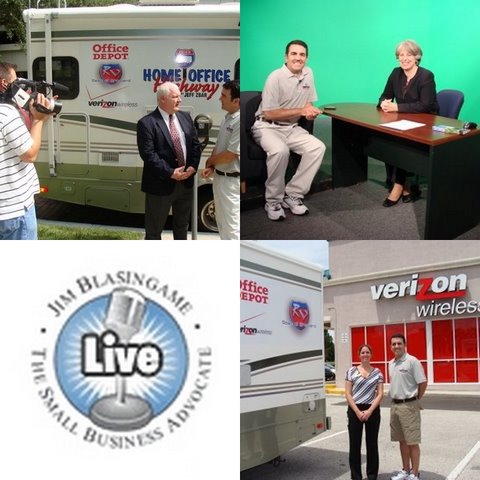 . The Result: More than 2 million consumer impressions during the tour and residual media coverage that continues via the Internet.
Among the media outlets reached:
* First Coast News / ABC / CBS Television, Jacksonville, Fla.
* On The Ribbon with Ruth King
* Jim Blasingame & The Small Business Advocate (50+ stations in syndication)
* BestStuff.com (400,000 unique visitors per month).
* ClearChannel Radio's "Tech Talk with Craig Peterson."
* The Rich Roffman Show (1360AM Miami/Fort Lauderdale
* South Florida Business Journal (50,000+ subscribers + online and pass along)
* Disney Entrepreneur Center. 1.5 hour presentation and online replay
* Work Home You (1,000 recipients + pass along readership)
* Ramon Ray's Small Biz Technology (50,000 recipients)
* Home Office Warrior small business blog.
* Tom Torbjornsen's America's Car Show (650,000 listeners / subscribers)
* Alex Johnson's Shedworking.com