The Road Warrior, organization
June 1st, 2010
No Comments »
Fans of 24 will recall the messenger bag / shoulder tote that Jack Bauer used to carry. It held various Secret Agent tools – nuclear bomb deactivation tools, that ubiquitous "handheld" to which CTI could send building schematics.
Never saw him pull out lunch or a pair of car keys, though.
Still, I wanted a bag dripping in such utility. Functional, not too girlish. Effective enough to carry all my stuff, but still macho enough so as not to bring my manhood into question (no, it's neither a manpurse NOR a European shoulder bag). Apparently, you can find one here.
Any home office worker, teleworker or other mobile tech / road warrior likely could appreciate this lament.
Is there a bag that fits all the stuff the modern tech-laden exec or home-working mom / dad must shuttle?
In other words, what makes a great laptop travel bag? It's a question I've asked for years.
The Road Warrior, organization, technology
July 26th, 2009
No Comments »
To paraphrase the once-almost-ubiquitous line from a popular credit-card commercial, 'What's in your backpack'?'
Whether a family cruise or a two-week road trip, I make sure to pack my backpack with all the essentials needed to create a home office from the road. And with every trip, I find something new to stash in my travel case. I'm sure road warriors and teleworkers go through the same exercise.
Along side my MSI Wind netbook and Verizon Mifi personal hotspot, Below are the 10 (or so) must-pack accessories I carry with me:
- My laptops and netbooks don't have card readers. So I carry a card reader and USB flash drive so I can import the scores of photographs I'll shoot each day. Read More »
organization
July 22nd, 2009
No Comments »
Home Office Highway: What's it all about…?
It's about the tools: Here we have the MSI U123 netbook, along with the Targus wireless mouse (part of its Netbook Accessories Kit), the Be.ez LA besace 15 Limedrop messenger bag and matching LArobe Netbook sleeve,and the new BlackBerry Tour smartphone from Verizon Wireless.
With each passing year, we discover we can do more with less. The key is to test, demo or try different tools, and winnow out those that don't work — and those that add real value to the road working experience.
Our take: A good phone, wireless Internet, a powerful and small PC, a few accessories, and a place for your stuff, define the remote work experience.
To cite Henry David Thoreau: Simplify. Simplify.
Product Review, The Road Warrior, organization
April 15th, 2009
No Comments »
BlackBerry? Check. MP3 player? Check. Camera? Check.
Forty-two linear feet of wires, cables and cords attached to transformers to recharge all these devices? Uh… OK. No more.
Home officers and road warriors are entangled in lengths of wire — unless you use something to master the morass. Enter CallPod, and various products designed to keep the juice flowing…
Fueltank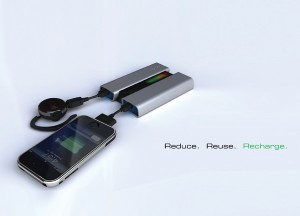 Fueltank™ can simultaneously charge two small electronic devices NO OUTLETS NECESSARY. It contains a rechargeable lithium ion battery which has more than 7 times the capacity of a standard mobile phone. The Fueltank utilizes device-specific adapters - the same ones used for Chargepod® - so you can customize your Fueltank™ to meet the exact needs of you and your family. Proprietary voltage regulator technology senses the amount of power required to charge your devices. An LED fuel capacity indicators displays when the charging indicator button is pressed. www.callpod.com/products/fueltank
Pre-Trip Planning, Product Review, Product Reviews, Telework & Virtual Officing, The Road Warrior, organization
April 3rd, 2009
1 Comment »
SCROLL DOWN FOR NEW BLOG POSTS

&
HEY, FOLLOW ME ON TWITTER
Home Office Highway has several new features for home officers, teleworkers, road warriors or anyone who wants balance when they work remotely. First, we've posted a library of videos, and created a sister site rich with great cools for working from the road.
.
There's also Chief Home Officer, where home-based workers can discover the technology, tools and tips to work from the home office. With News, Reviews & Tips from the home office's front lines, Chief Home Officer explores how to become a well-balanced home-officer.
___________________________________________________
Commentary, Telework & Virtual Officing, Uncategorized, organization, sponsor news
July 25th, 2008
1 Comment »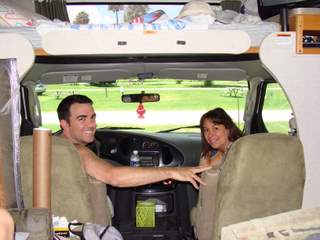 I'm sitting at my kitchen counter, HP laptop powered up, and pondering what we just completed.
Home Office Highway was an unbelievable exercise, in freedom, family, adventure, escape, work / life balance (and then some), technology and the power tools that empower the remote worker, personalities, workstyles, and what it takes to get all these concepts to meet up on the same page.
I have no doubt that we'll do this again. I've spoken with my partners, and the interest is there. My clients were buoyed by the concept, and for the most part, were none the wiser — or at least didn't seem to mind — that I was working from Lord knows where.
To be sure, there's some balancing that needs working out. A few thoughts in retrospect… Read More »
organization, technology
July 6th, 2008
No Comments »
I've planted my flag and staked my claim to the front-facing perch of the dinette table in our mobile home office. It is here I've created my workspace. And I'm settling in quite nicely.
With a few common supplies, a couple of hardware gadgets, and a little ingenuity, I've made it my own
My Foray Mobile Workmate has packed with my laptop (a killer new HP Compaq 2710P tablet ultraslim notebook) and my accessories abound.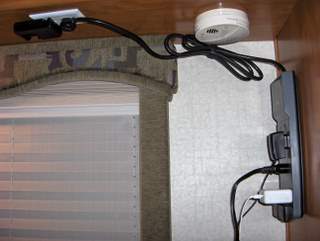 I've got several cameras (a Sony Cyber-shot 8.1 megapixel, and my two-year-old HP Photosmart 5.1 megapixel. Nicole brought her Casio Elixim. And the phones have cameras(of course). The Workmate fits perfectly between the driver and shotgun seats while moving. And when I've relocated to my office, it opens right beside me.But what's really cool are the little tweaks I've made.
With a pair of inch-square patches of Velcro, I mounted the Ativa surge protector to thee wall behind me. Up and out of the way, it's become the power charging station for the phones, cameras, printer, laptops and all our other accessories.
The other occurred in that place where A-Ha! meets the right-designed product. The dinette table has two cup holders set in holes routed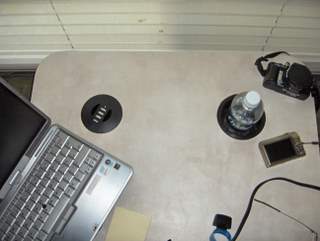 out from the wood. I popped out one of the holders, unscrewed the in-desk USB hub, and slip the top through the wood. I then screwed the backing behind the table, screwed it into place and — Viola! — I had an in-desk USB hub.
Working from an "alternative" home office requires a bit of make-shift thinking, a few epiphanies and some luck. More tweaks and creativity to come.
It's positively a unique experience. Except Sponge Bob's on the cable. So I guess it's not that unique at all…
Pre-Trip Planning, organization
July 6th, 2008
No Comments »
Imagine taking a three week trip. Then imagine packing the family — and home office — for that trip. The details are innumerable, intimidating and seemingly insurmountable.
From packing kids' duffel bags for camp, and outfitting an RV for almost a month of workation, it's a daunting task — for mom and dad alike. How to do it all? It reminds me of a quote I once got from someone when I asked what they wanted for the holidays? Overworked as she was, she said, "A clone, with insomnia."
We're eyeballing the RV with keen interest on where things should go for most effective ergonomics and functionality. Where should the home office be kept — when it's not a home office? Where should the travelers' stuff be stored on a vehicle with limited storage?
Thankfully, we have a few products that are helping organize the space. My Foray Mobile Office Workmate will stash one laptop almost all my accessories, and some files and paperwork. This way, when I'm ready to work, I just roll it out (from where yet, I still don't know), open it up, pull out and power up the laptop, and — Voila! — I have an office.
I've put a batch of supplies behind the driver's and passenger seats. One weatherproof storage container will stash all my printer paper, cartridges and the like. My inlaws — veteran RVers of more than 40 years — said to keep supplies in the shower stall, and fetch them as needed. Talk about maximizing space.
In tight quarters, whether it's an RV-turned-home office or a Manhattan apartment or the corner of your den, the key is to improvise with a keen eye on functionality. We'll make it happen.
I'm just waiting for the clone to show up.
The Road Warrior, organization
June 30th, 2008
No Comments »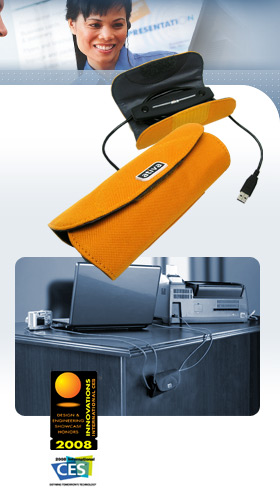 As I walked the aisle of my local Office Depot, I wondered what I would need for my home office road trip. Laptops and routers, storage devices (for paper, pixels and docs) and organizational stuff. Just like I worked from home, really.
But then I saw it, and knew I had to have it. Knew I'd be lost — or at least in an entangled mess — without it. Velcro cable straps and the Ativa Cable Burrito. Absolutely.
Yet my wife had other ideas. After asking her to peruse RV Vacations For Dummies, I inquired what the top three items she said were Must Bring accessories. Robbie whittled it down to one: rubber gloves. Anyone who's seen RV with Robin Williams knows where Latex gloves would come in — though he needed a hazmat suit. (Robbie's other two items were a broom and binoculars to spot low-cost fuel from a distance. One suggestion there: GasBuddy.com). Read More »