Security
July 9th, 2008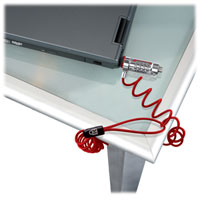 Did you know a notebook computer is stolen every 53 seconds in the U.S. That's a ton of bummin' laptop owners out there. If you're a home officer on the road, don't become a statistic. They lead pretty boring lives. Instead, think of ways to thwart the bad guys.
With laptops, cable locks are the ideal solution. The Kensington ComboSaver Combination Portable Notebook Lock is a pretty cool and compact device. With a six-foot self-coiling cable, it expands and retracts with relative ease.
In an RV, improvisation is the next best thing to having a shaded campsite. They say to lock your laptop — or any stuff — to an immovable object. In the RV, the dinette table, which collapses into a bed, doesn't quite qualify as "immovable." If a thief lifted the table off the posts — to which the laptop was ostensibly secured, they'd be thanking your for the freebie in no time.
But was makes the dinette table a partner in crime prevention is the cup holders. Cut straight through the table itself, I snake the ComboSaver cable through the hole, and secure the device. (I also use the hole for the Ativa USB Hub).
There's also CompuTrace Lojack For Laptops. Install it, and if your laptop is heisted, the next time someone logs on, their IP is broadcast to authorities.
I also have a TSA-accepted combo lock for my Foray Mobile Workmate, and will lock it up when I'm away. Window shades closed and doors locked, we'll strive to create a safe and secure RV home office.
Home officing is the place of innovation and ingenuity. Even if you lose cup holders in the process. At least you (hopefully) won't lose your technology…
One response to "Securing Your RV Stuff Better Than the Home Office"