Commentary
July 10th, 2008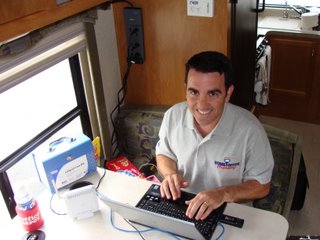 Before we left home on Home Office Highway, I made sure to let my clients and family know the boundaries we'd all be facing. I told them I'd be working "part time." That meant, at least to me, that I'd ply my own hours — usually before the "traditional" workday or on a spotty, unpredictable schedule throughout.
But something funny happened on the highway: The home officer's own expectations seem out of whack. I thought I'd be working very little. But I find myself working a fair amount. Less than at home, for sure. But more than I'd expected. I'm at the dinette table early (nothing unusual there), and checking email — in the RV, at gas stops (plenty of time there to fetch, read and reply), while standing atop Stone Mountain outside Atlanta.
I guess I'm the one who missed the work-expectations memo.
You see, old habits die hard — if at all. I never established some big, fat DMZ between work and play at home, or while on vacations. Why should I suddenly find some 38th Parallel while driving down Interstate 75 — especially when I have all the tools and trappings of a fully functional home office in the RV I'm driving?
I mean, "balance" is about more than saying I'll make time for work amid play. It's about finding that time. So I find myself awakening at 4am because I have a blog in my head, or a deadline to file — and I want to limit family interruptions. Of the three "workdays" that have occurred since we left home (meaning Monday, Tuesday and Wednesday of this week), I've worked at least until around 11am on each of them — and then gone on to play and sightsee with the family.
Is that so bad? I mean, we'll be traveling for three weeks. And the extenuating circumstance involved here are a batch of deadlines that just happened to fall in the same week — one which happened to fall during the first week of our vacation.
Again, that I have a home office on the road mitigates the degree of nuisance factor my family will have to tolerate. Look, it's almost 3am as I write this. No one's clammoring for me to pipe down. And the more I get done in the morning, the more time I have for the family later.
But I guess "setting expectations" while traveling includes your own. I know my style. It's just about balancing it in the home office highway.
One response to "Setting Home Office Work Expectations – Even Your Own"