Commentary, Soloing, Uncategorized
July 19th, 2008
I've been a fan of Henry David Thoreau for more than a decade. Didn't read him in grade school or college. I came across his works and thinking later in life, and found a piece of him in me. Equal parts poet, essayist, biologist, ecologist, transcendentalist, anarchist, abolitionist and a creator of civil disobediance whose writings later were followed by Leo Tolstoy, Mahatma Gandhi and Martin Luther King, I believe any free spirited thinker can say they feel his work.
So it was when we were driving down I-495 in Central Massachusetts this week and came across a sign for the Walden Pond State Reservation, I knew I just had to stop.
I knew it would be an idyllic place, this campsite and woods that Thoreau spent two years, two months and two days in the 1840s exploring, journaling, and living a solitary life. I'd read some of his works, and while the details were a bit fuzzy, the big picture revealed a place I had to be.
"You're going to see a lot of 'earthy' people," I forewarned Robbie. "People in Birkenstocks and women in peasant skirts who still follow his writings."
So Robbie, Nicole and I went. And we parked in a lot with far too many vehicles to be just members of The Thoreau Society. Whatever. We were all on the same plane.
And as I rounded a corner from the parking lot, I saw it…
About 500 other pond seekers had sought out Walden. Sure, there were a few pair of Birkenstocks. But most seemingly had no idea that Henry David Thoreau's campsite was a quarter mile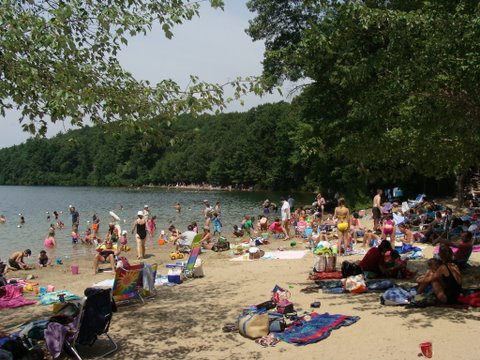 around the bend. They were just there for the pond, swimming, picnicking, their six-packs of Dasani water in plastic wrappers and a "PB&J Grape" Ziplock baggie tossed aside on what some would considered hallowed ground.
This day I'd so cherished and had high hopes for ended up being part enlightenment and revelation, part frustration and damnation, and part realization of the way things sometimes come to be.
The smell of suntan lotion was thick on the air as I approached the pond. Robbie was cracking up. She's never read Thoreau (she's more a Steele kinda girl). But through my enthusiastic and passionate relations of his work and beliefs, she came to know what Thoreau was all about. So the irony was dripping on her like the contents of a bottle of SPF 70 being slathered on a toddler's back. As I approached her and Nicole, the reality of the situation striking us all, I heard the wive's tale from nearby, "Don't you know you can't swim for 30 minutes after you eat?"
Yeah, some of us need time to choke down some crow.
We walked quickly along the trail leading from the beach to The Camp, escaping the insanity and what I knew could not be. I had to get to the cabin. I had to be relieved of this scene, to see that place where Thoreau wrote and cooked and lived for those 314 days or so. Heck, I'd even scurried past the "Replica" cabin in the parking lot, thinking, "Why waste time on a replica? I want to see the real thing…"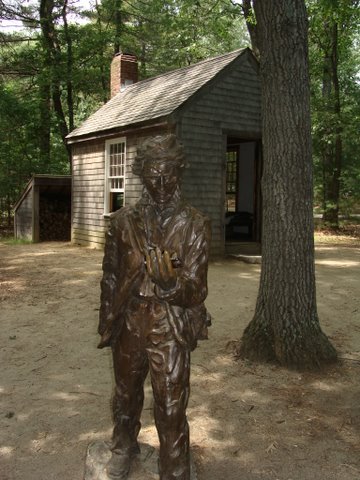 After a quarter-mile walk, we still hadn't seen the cabin. A teen-age boy and an older man approached. The senior of the two was graying in beard and hair, wearing a "Thoreau Saunter Society" t-shirt (I gotta get me one of those, I said to myself…). Figuring he knew the way, I inquired about the cabin. "It's just up this path. But there's no cabin," he said. He then led me down a path of a little history. It seems the wooden structure had fallen to rot and decay some years ago. In fact, it wasn't until 1941 that an amateur archeologist and Thoreau enthusiast used details from Thoreau's Walden Pond and three months' exploration to discover the foundation of the brick chimney. Then, piecing together more details from the writings, he and others surmised the size, inclination and direction of the cabin, and eight small concrete pillars were erected to mark the foundation and site. It's been a meeting place of The Thoreau Society ever since.
"Still," I commented to Alex, a professor of model ship building who stopped while driving from Minnesota to Maine to teach a week's course, "it's impressive that he lived here for two years, two months and two days." I was grasping for something cherished and pure amid all this, if not merchandising (the gaudiest form of sacrilege in the face of something revered), then at least ignorant.
"Impressive?" Alex said. "Thoreau went home to have dinner at his mother's house in Concord."
I felt my interpretation of American literature's history slipping through my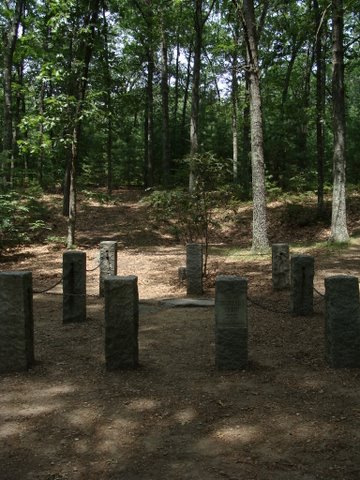 hands like sunscreen through a mom's fingers.
Besides, he said, this pond has been a regional swimming hole for as far back as anyone can remember. Thoreau nor his followers have sole no claims to it.
We found the concrete markers, with a display in front and a pile of rocks nearby. No sign of a cabin. Just this. The rocks are tribute, started by Branson Alcott (father of Louisa May Alcott — nearby Concord is rife with heroes of American literature, Alcott, Nathanial Hawthorne and Ralph Waldo Emerson, whose land this was at one time). Over the years, the pile has grown – and shrunk. It seems people bring rocks from all over. And some people take them as mementos of their visit to Walden Pond.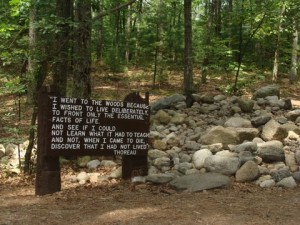 I went swimming in the pond, I hoped using the sandy slope that Thoreau himself might have used to enter these refreshing waters a century and a half ago. I swam out about 50 yards. The water was cool and crisp, thoroughly refreshing and at least somewhat spiritually refreshing, given that the masses were a quarter mile away and out of earshot. But I was surrounded by about a dozen pond-goers, a tolerable number.
Below me in these crystalline waters, I saw a pile of rocks. I submerged and grabbed one. I dropped it, submerged again, and grabbed another. I continued until I found one perfect rock.
I emerged from the water, dried off a bit, and as Robbie and Nicole — patient saints that they'd been these three hours — began walking toward the exit, I approached the cabin site anew. I took my new rock, slick with its slight film of algae, and placed it on the pile, right at the base of a sign. It read, "I went to the woods because I wished to live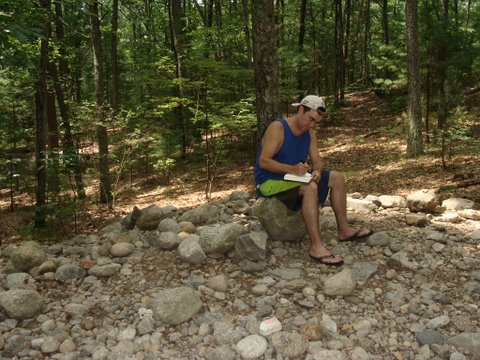 deliberately, to front only the essential facts of life. and see if I could not learn what it had to teach and not, when I came to die, discover that I had not lived."
There was a t-shirt in the Walden Pond Gift Store across the street from the pond itself, where I bought that shirt about The Thoreau Saunter Society. It read, "What Would Thoreau Do?"
Just sigh, I believe…
2 responses to "Reality vs. Fiction vs. What One Home Officer Always Believed"