Accommodations
June 10th, 2008
What would you do if you had to create a home office from a space just under 169 square feet? Where would you put "your" space — to work, to focus, to ply your trade uninterrupted?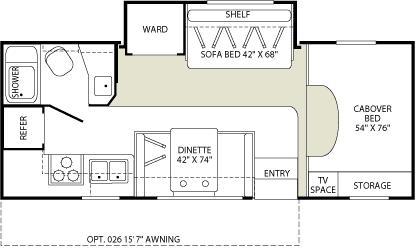 That's what I'll face when I take my laptop, wireless Internet connection and other accessories into our Fleetwood Jamboree and try to work efficiently from a make-shift home office for three weeks.
This isn't really a stretch. It's bigger than my office at home, which measures right around 140 square feet. But the two are very similar in one respect: Whether it's 169 square feet or 140, it's not ALL workspace. In my home office, my desk takes up about 20 square feet (it's a custom-built beauty, I humbly admit), and the shelving behind me consumes another 10 feet.
Look at the Jamboree's floor plan, and you'll see I won't have much space of my own. The dinette may be my ideal space, but that's about 21 square feet. The cab-over bed and storage will be another 29 feet. The kitchenette and bathroom are not ideal workspaces, though I've been known to get some pretty good reading done in the latter…
Clearly, I'll have to improvise — and will enjoy doing so. I'll lose the kitchen table when it's converted into a bed, meaning my pre-dawn working hours will need some other space. With the awning stretched out, I'll feed my unusual work chronology by working outside when the spirit and elements cooperate. I'm sure the campgrounds and RV parks we visit will have picnic tables. I'll work as Robbie drives (oh, the beauty of wireless broadband).
As I'm learning from other RV sites, working from the road is a heavily improvised and ad hoc exercise. If you have some thoughts or suggestions, send them my way…
One response to "Home Office is Where the Laptop is…"