Tour Guide
Part Subject Matter Expert, Part-Time Road Warrior – All Home Officer…
Jeff Zbar has worked from home since 1989 — and has been a frequent road warrior and netizen since the Internet itself emerged for use beyond the corporate office.
He has worked from home, coffee shops, airports — even the seat of a car driving down Interstate 26 during a late night driving rain storm while in search of hotel room.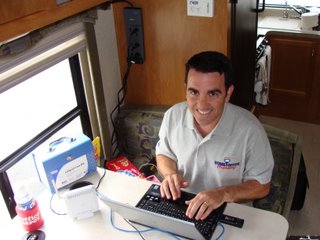 Today, the Chief Home Officer.com works with corporations hoping to better target the small business and emerging home office and teleworking markets, as well as those individuals striving to enter or excel in those arenas.
Jeff serves as a Subject Matter Expert for marketers to help them understand and target small business owners and home officers. Several times a year, Jeff partners with top brands in the small or home office (SOHO) segment to host satellite and ground media tours, and frequently is engaged to lead seminars, moderate panel discussions or present as a keynote speaker on topics related to entrepreneurship trends, home officing, telework, and emerging work trends.
Part expert, part spokesman, Jeff is all insight – revealing how the latest technology, Web services and other products can help small business owners, home officers, teleworkers and many others work more efficiently and live more completely amid a balanced work/life experience.
Comfortable in front of the camera, microphone or live audience, Jeff has extensive presentation experience. He is a recurring guest on several nationally syndicated radio shows, and served as an expert guest for WFOR Channel 4, the Miami-Fort Lauderdale CBS affiliate. He frequently lectures for organizations serving entrepreneurs and small businesses, and has conducted national seminar tours on small business and home officing issues.
His marketing and promotional efforts have included Web site content and marketing message development, radio and television appearances, and national speaking, ground, satellite and radio media tours and contests for such companies as Office Depot, AT&T/BellSouth, Sprint, HP/Compaq, Sony, Brother, Lexmark, Logitech, Broderbund and Hunter Douglas. His product reviews appear on BestStuff.com, and he is a member of and editorial contributor to the School, Home & Office Products Association (SHOPA).