Contact / Newsroom
Media and Corporations interested in learning more about Home Office Highway can contact the tour via:
Alan T. Brown with Fish Consulting (954-893-9151 / alan@fish-consulting.com )
For RV Sales of Broward, contact Harriet Helfand with Reeves Laverdure  Public Relations (561-391-8717 / hhelfand@reevespr.com)
To contact Jeff Zbar, call 954-346-4393 / jeff [at] chiefhomeofficer.com
In July 2008, Home Office Highway traveled more than 4,000 miles of American highway in a highly visible RV emblazoned with sponsor brand logos, visited several popular retail destinations, and was profiled in leading national consumer, business and trade media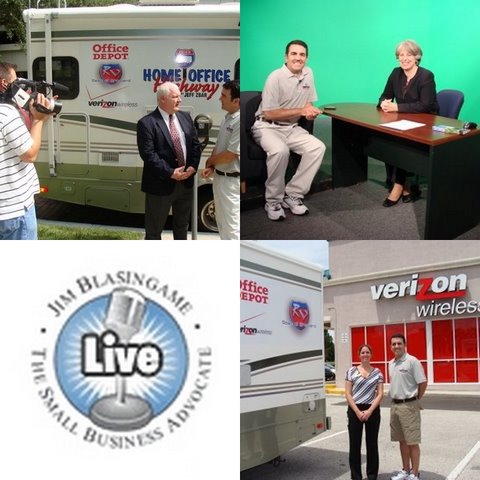 .
Today, Home Office Highway.com reviews the latest technology and tools for today's mobile worker.
The Result: More than 2 million consumer impressions during the tour and residual media coverage that continues via the Internet.
Among the media outlets reached:
* First Coast News / ABC / CBS Television, Jacksonville, Fla.
* On The Ribbon with Ruth King
* Jim Blasingame & The Small Business Advocate (50+ stations in syndication)
* BestStuff.com (400,000 unique visitors per month).
* ClearChannel Radio's "Tech Talk with Craig Peterson."
* The Rich Roffman Show (1360AM Miami/Fort Lauderdale
* South Florida Business Journal (50,000+ subscribers + online and pass along)
* Disney Entrepreneur Center. 1.5 hour presentation and online replay
* Work Home You (1,000 recipients + pass along readership)
* Ramon Ray's Small Biz Technology (50,000 recipients)
* Home Office Warrior small business blog.
* Tom Torbjornsen's America's Car Show (650,000 listeners / subscribers)
* Alex Johnson's Shedworking.com