Commentary, organization, sponsor news, Telework & Virtual Officing, Uncategorized
July 25th, 2008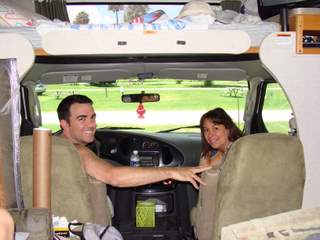 I'm sitting at my kitchen counter, HP laptop powered up, and pondering what we just completed.
Home Office Highway was an unbelievable exercise, in freedom, family, adventure, escape, work / life balance (and then some), technology and the power tools that empower the remote worker, personalities, workstyles, and what it takes to get all these concepts to meet up on the same page.
I have no doubt that we'll do this again. I've spoken with my partners, and the interest is there. My clients were buoyed by the concept, and for the most part, were none the wiser — or at least didn't seem to mind — that I was working from Lord knows where.
To be sure, there's some balancing that needs working out. A few thoughts in retrospect…
– Travel fewer miles, or take more time. Massachusetts was wonderful. Walden Pond was inspiring, to say the least. But the distance and scheduled stops along the way (three Office Depot locations, and two Verizon Wireless facilities, including their switch facility in Orlando [more on that later]) required that we spend no more than a night or two in any location. Robbie grew up RVing, and her fondest memories came from exploring a single site for two, three – or even seven – nights. While I'd get stir-crazy if we plotzed for a week, our journey occasionally seemed rushed.
– Explore the "cloud" more. The SaaS (software as a service) technology offering that's slowing taking hold with such concepts as Google Docs, Web-based email, and a host of other applications, even online banking, bill pay and direct deposit, will TRULY liberate the remote worker. Every email correspondence I had was via Gmail, or my BlackBerry, which then fed the message back into my conversation thread on Gmail. Before I left, I tried to set up HP's new Upline data back-up service. A glitch kept me from completing the process. I might try again. With ALL my documents available from that back-up cloud, my work truly will become portable. If work is a thing that occurs regardless of "where" it's done, then why not the clouds?
– Consider using ONLY a laptop. I'm really digging working from a laptop. The mobility, portability and "work-from-anywhere" promise is liberating. Frankly, as I tweeted recently, I'm not feeling any urge to power up my desktop. There may be a change afoot around these parts…
– Practice minimalism. As part of this tour, I showcased a lot of technology. I had two dozen or more products from Office Depot, Ativa and Foray, and we had an armada of Verizon Wireless phones. Next time, I will practice what Henry David Thoreau preached and "Simplify, Simplify." Do more with less is the promise of today's technology. With a laptop, a broadband access card, a wireless phone, and a few other pieces of tech, I can do what was done without requiring the space needed (physically, and mentally) to stash all this stuff.
– Practice minimalism, Part II. Curb the Other Stuff. We didn't bring a lot of superfluous stuff along for the ride. But what we did bring tended to clutter the living space. We weren't in some 40-foot mega-coach, so storage was limited. Next time, we'll bring less (including food), and re-stock or buy what we need along the way.
– Plan better. We dumb-lucked our way into a number of wonderful parks, like Stone Mountain and Payne's Creek in Georgia, Cherry Hill RV Park in Maryland, and Minuteman Campground in Littleton, Mass., even a fetching little Good Sam's RV park in Georgia off Interstate 95 at Exit 1. But our last night on the road we stayed at a trailer park advertised as an RV park. The amenities were lousy, the showers were old, and the cost was high. We even stayed in a rest stop along the New Jersey Turnpike, which was fine – and only came about when we realized no RV parks were along the way. OK, so the Web tells potential customers what the Website owner wants them to read. But before we head out next time, I'm going to read guide books and listings of RV parks and campgrounds along the route. No more dumps. The cost is too high, and our time is too precious to waste it on a lousy night's stay.
More thoughts to come. For now, we have a monstrous pile of laundry to clean up, and I have a TON of technology to put away. I'm also preparing to go through the entries for the Home Office Highway contest and award a winner some cool stuff. Maybe even two winners.
At least it'll help clear my home office of all this stuff!
One response to "After 3 Weeks, We're at the Home Office. Now, the Retrospective"